2016年 11月 30日
| | |
| --- | --- |
| WINTER AT SIXTEEN:Visit of Zarathustra byマサコ | |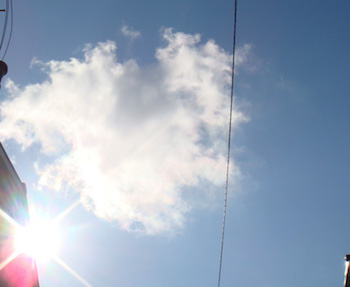 I was born in Himeji, Hyogo Prefecture, on September 16 , 1952, the
youngest of four children. I grew up with my parents, my mother's
parents and brother and two sisters in Akashi City where my family
moved when I was two.
It was my grandmother who had a strong influence on my life till
I became ten years old. She had graduated from Tsuda Women's
College and taught English.
She looked like a wonderful person to me as compared with my
mother, who was worn out in raising her children and also did not
seem to be hitting it off -- as even I, a child, could see -- with my
father.
My grandmother and I used to sleep together in futon at night after
she read books to me. I guess I was looked after with great care.
She let my elder sister, a primary schoolgirl then, and me listen to
the "Basic English " program while she, too, listened to English
conversation programs intently.
I remember that I came to understand a pure aura emitted from her
in her wholehearted love for learning.
She passed away in 1962. Then years after that was a period of
darkness for both my mother and me.
My family folks, as none of them were in good health, shared the
agony with one another.
I seemed to be the focus of the family members' empathy.
Born weak, I began to have more fits as years passed by.
Attacks of fever stopped me from going to school at Grade 5.
The more I suffered, the more neurotic my mother became about
the difficulties in her marriage. This bonded us closely as we tried
home treatment or therapy from every professional we knew.
My experiences were beyond description.
Like Job in the Old Testament, there were more and more difficulties,
pain and despair gnawing at my body. I barely managed to graduate
from the primary school a year later than I was supposed to.
My disappointment at not being able to attend a junior high school
made me just as neurotic as my mother was.
I was thirteen. What I was living for then was the music played by
Glenn Gould, whom I came to know about around that time and
learning English on the radio to prepare myself for meeting him one
day.
It was the summer when I was fifteen.
Coming back to Akashi after visiting a doctor in Tokyo, I was so
desperately lonely that I needed to talk to my dearest Gould.
So I thought of tape-recording Back's Goldberg Variations and sending
a copy to him, as my mother's piano instructor recommended.
What other hopes were left with me ?
The sheet music of the Goldberg Variations was bought in Tokyo
by my mother's elder brother who died in the war. He took it
back to Taiwan, but I have heard that he said he would be quite
happy to give it away to whoever could play this difficult piece.
When my mother was repatriated from Taiwan after the war,
she left the music with one of her friends as she could not take it
with her. It was sent back later with my uncle's signature on it.
In spite of the lack of interest in food and getting little sleep at night
because of the pain, I had the will power to master this music
in an amazingly short time. I was determined to get myself up
when I collapsed. I would then take a break and finally seat myself
in front of the piano.
In December that year, a shiatsu therapist told me,
"You see genius is but one remove from insanity. You might lose your
talent for playing the piano if I treated you."
With my time drawing somewhat nearer, I did not fear the possible
consequences. I had three sessions of treatment with him and did lose
the incredibly movement of my finger tips, the beautiful tone and the
"elan vital"--all along with the drastic changes in my condition such as
regaining my appetite and becoming able to sleep well.
To make things worse, I was told to go to school in April the following
year when I was supposed to be in Grade 9 (instead of Grade 10).
I could not possibly picture myself being at school ; I had been away
from the regular school curriculum for so long that I was at least five
years behind students of my age, and the classes would offer nothing
but preparations for entrance examinations for high schools.
All of these entangled with my difficulties peculiar to puberty threw me
into the abyss of despair.
My hopes and efforts were rejected, my precious treasure was taken
away all of a sudden, and the cry of my bleeding heart was ignored.
At that time, meaning of life, health or whatever else was all muddled up.
And yet, as I always looked cheerful and high-spirited, people criticized
me constantly for being "overprotected," "schoolphobe," "spoilt," etc..
Although I had already been sick in the previous year, my condition
became far worse in 1969. The facial pain and the toothaches were
particularly severe, making my life a hell on earth.
My body turned rigid --- on one side and then on the other --- every
night between twelve and two o'clock.
Feeling as though rheumatism and neuralgia were hitting me all over,
I had no choice but to rely on my extraordinary spiritual power in
enduring this excruciating pain.
I kept the room temperature unusually high because of the shivering
sensation I had. I had to change clothes as the part of my body
the pain was attacking got sweaty; but the pain did not help me stay
still and I had to keep moving around in the house during the day.
It was the state of sheer madness.
It happened for five days, starting probably on January 21.
My mother was tired out and asleep after tending me during my usual
dreadful fit.
I was all by myself, crying, as I recall, over my sense of despair that
nobody had helped me out of the attacks of the pain and that my efforts
over the years to become healthy had been totally futile.
Realizing that way under the frozen sea was another world of darkness
where I could not even see my finger tips. I felt as though heaven and
earth were crumbling down together.
I yelled out of my anguish :
"Even God cannot save me form where I am now.
How could He exist then? "
Right then, I heard the Aria from the Goldberg from far away in heaven.
With that music came a beautiful spirit who looked like a hermit.
The spirit picked me up and flew miles and miles till we reached a
mountain.
It felt like a world surrounded only by gratuitous devotion and love by
all the artists in history and their earnest admiration for beauty.
Although I was rolling all over on the bed because of the pain and not
having a snatch of sleep, part of me was completely away on the
journey with this spirit.
"You are crying now," the spirit told me, "but your illness will be cured,
and you will be playing the piano when you are fifty or sixty.
The music you will play then will have the power to always find crying
children, just like you. Those children, too, will come to know
themselves and rise. Do you understand ? It is the truth of life.
It is the world of the eternal."
The same thing happened in the same sequence, at the same time
--- around four o'clock --- and for five days.
On the last day, the spirit added, "I have been guiding you this time,
but climb up yourself next time."
We left the mountain and were still flying, this time, to see the sunrise.
As I saw the pale light of dawn coming onto the earth through the
glass window, I knew intuitively that that light was me.
This intuition flashed upon me, like lightening, for five days.
It is October 6, 1990.
I am a little puzzled because I have written, at one stretch, half of that
incident (What else could I have written if that incident was the only
thing to write about in my youth.).
Perhaps I was a child of great fortune to be able to be awakened to the
meaning of the human being as phoenix through that intense experience
at the age of sixteen.
In November, 1969, my sister and I started hand -copying sutras at an
apartment in Miyazaki City on the advice of a psychic healer who lived
there.
"It is the karma of the Itos' ancestors." she said, "that has afflicted
your life. You were born at God's will to purify their souls."
Twenty-two years later, in the fall, my mind is wrapped in various
thoughts --- Nietzsche's Zarathustra and eternal recurrence,
the teaching of The Reverend Masahisa Goi (which I came to know about
later ), my dream of going to Canada (which came true), and my still
being weak ---all like scattered clouds.
I must put down my pen now because I do not think I could write any
more.
Well, I also feel I can see in the readers' minds that my story is too
other-worldly.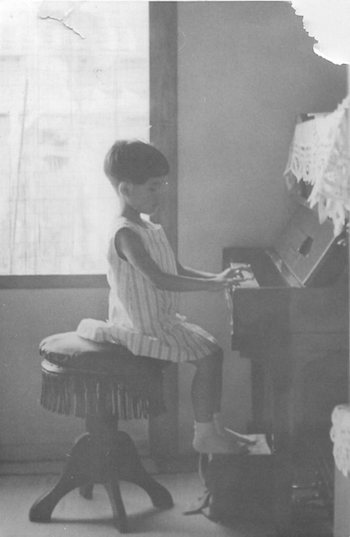 *************************