2017年 07月 19日
| | |
| --- | --- |
| web版33 exchanged emails between Canada & Japan part 2 | |
7 From Ichiro (May 31)
About the early May, I was requested to write a sentence on
the Hinomoto
Alumni Meeting Blog about "Miss. McClellan"
by Ms Kaho Itoh.
So I wrote a sentence naming "Miss Luella McClellan in our
memory", and
the sentence was adopted in the blog and
spread among the alumni
Reading this sentence and knowing that I have a strong wish
to contact
with
you, Ms. Monica, tried to find out where we
can contact with you
through an
SNS: Face Book. Though I
don't know how, she has found out
Everything has started from here, and its a very good luck
and even a
This sentence was written in Japanese, but it carries almost
fully what
I (we)
have been thinking about you since you had
left Japan. Therefore I
translated
this into English, and I wish
to make this sentence the starting
point of our
communication
from now. But this sentences rather long and
has quite a few
pictures, and
I wonder it might be too heavy to send by email.
So I will post it to you.
I hope you will read and understand how people here in Japan
have been
Yesterday I went with my wife to Himeji Library to find a
book on the 100
years history of the Hinomoto School, and I
found that it is kept in some
other library from the one I
visited yesterday. They will transfer it on next
After studying it, maybe I'll be able to send you a few pieces
of the news
about past and more or less present Hinomoto.
In the mean time, please find pictures of my wife and me
taken in the
museum where we dropped in on the way back
from the library. Especially
my picture sent to you already is
not quite handsome, and so I would be
very happy if you will
renew your image of me.
(Please don't say there's not much difference!)
Last but not least, please send my best regards to Mrs. Lee
and your
daughter in the picture which you sent to me by email.
Please take good care of yourself.
P.S. I will send you email from time to time.
But please don't think you have to reply to all the emails.
Please send me whenever you feel good.
At an annex to the Himeji Literature Pavillion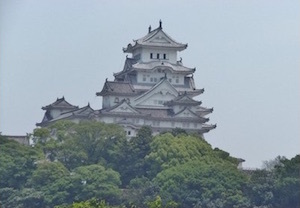 Himeji Castle from North West
8 From Sensei ( June 1 )
Thank you so much for your emails and pictures. I am not as good a
correspondent as you are.
As far as change is concerned, we have all changed pretty radically in
61
years , but I suppose we are rather fortunate to still be here.
Your wife, Yasuko, is a very fine looking lady, and you must be proud of
her
accomplishments. I also enjoyed seeing Mr Udagawa, I remember his
face
as a student and what a fine Christian gentleman he has become.
I am interested in everything you send me . It is good of you and your wife
to do research on Hinomoto Gakuen. I did not know it was 100 years old.
There is much I do not know about the school.
Wouldn't it be amazing if some day in the future, you and your wife could
travel to Victoria , and we could meet once again.
Thank you for your emails.
9 From Ichiro (June 10 )
As to the Principal Saburo Namioka, I can tell you just as below;-
  1937:Became the sixth Principal
  April 1,1944: Arrested and put into the jail because he told about the
    probability of Japanese defeat in the last war in front of the public.
  July 1946: Installed as the eighth principal
  Mach 20, 1970: Retired because of his sickness
  June 18, 1970: Passed away
I served to Himeji YMCA with him for quite a long time and was impressed
by his thoughtful, gentle and Christian like behavior and attitudes. He fell
down from cerebral infarction and was staying in bed for 4-5 years without
speaking clearly. His younger brother was a General Secretary of YMCA of
Japan and his son became a YMCA secretary too quite some time ago.
I apologize for being too long.
~~~~~~~~~~~~

10 From Sensei (June 12)
Yesterday, your package arrived safely from Japan. I recall the Rainy Season well. I did find the heat and humidity hard to take.
But it finally passed, and I enjoyed the warm summer days. Yes, I agree
air-conditioning would have helped.
I was most interested to read the account of your student years, and your
successful business career, followed by your marriage and dutiful return to
Himeji to care for your father who had fallen ill with brain problems.
You are more than kind in your recollections of me. I learned many things I
did not know at the time. For example, it was news to me that it was
unusual
for boys and girls of your ages to study together in Japan.
Mr. Nakamura's
Christian influence was strong and so helpful to you all.
By the way, I have often wondered if the pre-fab house I lived in on
Gokenyashiki, is still there and is it occupied ?
In the second document you sent, I appreciated you identifying each
student and describing their careers. I must say I was impressed with you
all, as
diligent students and your success at university and in your future
I was sorry to hear of Mr Iguchi's sad prolonged end. I always admired his
work. I remember being at his wedding at Hinomoto.
Thank you for more pictures of the changes in Himeji.....
The Station Street
Mall , and the new improved Himeji Station.
I hope you and Yasuko continue well, as my daughter, Joyce, and I do,
tho' I
am somewhat slowed down in my activities at nearly 97 years of age.
I do
not leave Somerset House often now, as there is the danger of falling.
I use
a walker to assist me in getting around safely.
Thank you so much for your communications to me. I do enjoy hearing.
11 From Ichiro (June 16 )
I was trying to get "the Hinomoto 100 Years History" for sending to you,
and
today Rev. Masayuki Inoue, the pastor of the Hinomoto Church, told
me that he found the one. So, in several days, you will be able to get it.
It has of
course your pictures in it. I even found you in the photograph of
Inagawa
Camp. It will tell you how Hinomoto has changed after you left.
Imagining how it will help you to remember those days,
12 From Ichiro (June 20 )
How are you today? It's become so warm today, and we are being afraid
that it will rain very hard from tomorrow.
Yesterday, the wife of Rev. Inoue of Hinomoto Church kindly brought the
Hinomoto 100 Yeas History to my house. In fact it takes only 3-4 minutes
from my house to the church on foot. And this morning I posted it to you.
It will reach you within a week.
Please look forward to receiving it as it will refresh your memory
of the
This is the street from the station to the castle called "50 Meter Street."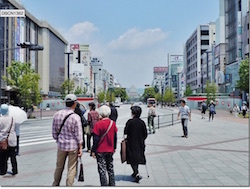 The nearest building you can see at the left hand side is the
"Sanyo Department Store," and the one at your right which
has the red advertisement board with white letters on the top is the
"Yamato Yashiki", another department Store. I think you went for
shopping from time to time.
13 From Sensei(June 23 )
In today's mail, I received the wonderful copy of Hinomoto's hundred year
history. What a beautiful edition it is !!!
I will enjoy reading it from cover to cover, and what excellent pictures .
Thank you so much for tracking it down for me .
I will learn much about the school, both before and after my time. It was so
kind of you to make the effort to find it and send it to me. Thank you again.
Also I enjoyed the pictures you sent in your email this week. Your recent
picture of the Himeji Castle is positively professional
I'm sure I wouldn't recognize the city streets as I knew them. They are so
I am writing to my niece, Mrs. Valerie Lee to let her know what benefits
have
come to me as a result of her facebook message to Japan, a couple
of
months ago, and after MonicaFF made contact with you.
******************