2017年 10月 19日
| | |
| --- | --- |
| web版42-2 Reunion with Mrs.Luella Buchanan(previously McLellan) by Ichiro Yamakawa | |
タグ:日ノ本学園・戦争とわたし
←クリックして記事一覧をご覧ください。
September 5-6, 2017
<At last I met with Sensei>

About 2:40 p.m. I and my wife arrived at the Somerset House (first class retirement house). It is located a little off from the Dallas Road along the seashore after 5-6 minutes taxi drive from the Empress Hotel where we were staying. We arrived at the gorgeous façade and found Miss Joyce Wilson waiting for us. Mrs. Buchanan was waiting for us in her room to respond to our telephone call.

Entering into her room, conversation started with hugging, "I'm pleased to meet you after 61 years and find you are in very good condition." I introduced my wife to her, and we formally greeted Miss Joyce Wilson who is the only one daughter of Sensei.
Sensei appeared to be so well and was so pleased to receive us. The room where we met Sensei was very clean and well in order, and the basic color was clean white. Sensei spoke in rather lower voice and more slowly than we heard when she was in Japan.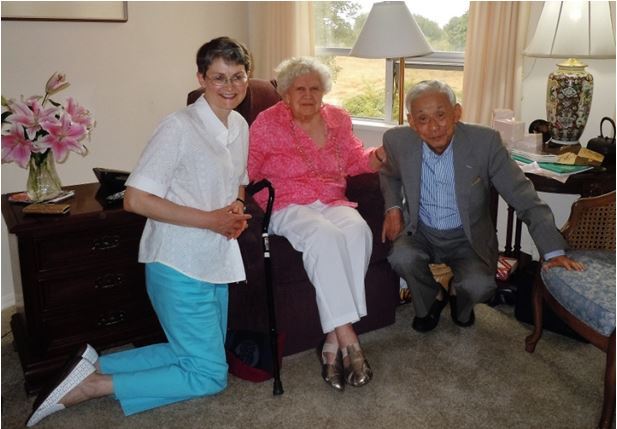 <Joyce-san,Sensei and me>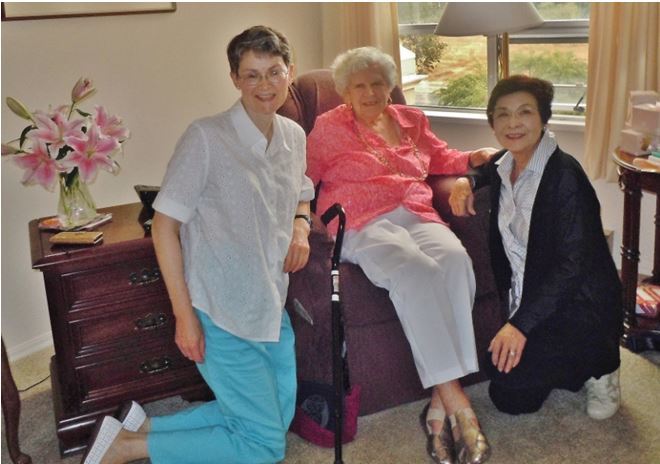 <Joyce-san, Sensei & Yasuko>
<Sensei after parting from us in Kobe port >
I asked her what happened to Sensei and how she lived after departure from Japan, which is what I wanted to know first. Sensei who was on board S.S. Cambodge was carried to Marseilles via Hong Kong, Manila, Saigon Singapore, Colombo, Bombay, Djibouti, Suez Canal, the Mediterranean Sea. Then she travelled through the European Continent and the Atlantic Ocean to Canada. It's a very long distance, but she was strong enough to overcome various difficulties, because we knew already that she had come to Japan alone.
After her return to Canada, she worked as a primary school teacher and got married with a Mr. Wilson. We guess it was 3 or 4 years after her return. Because when she left Japan, she was 36 years old, and she bore Joyce-san when Sensei was 41 years old, which means it was 5 years after her return to Canada. Sensei wanted to have more children, but she abandoned considering her age, Sensei told us. Sensei's first marriage ended in sad result after about 10 years, because she divorced. Sensei's life with Joyce-san in her infancy must have been rather difficult judging from the same life in Japan. Joyce-san's first name is Wilson after her father, but Sensei has looked after her growth by he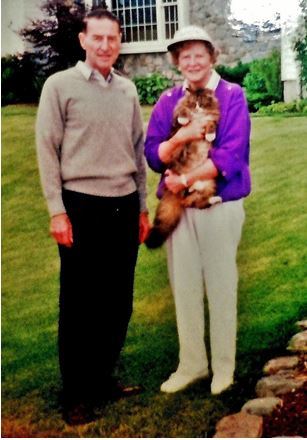 <Sensei & her brother,Mr.Jack McLellan>


Some years after her divorce, Sensei married with a Mr. Jack Buchanan, who was an engineer in a big smelting company in Trail City. The smelting industry of zinc, lead, etc. in Trail is world famous and the fact that Mr. Buchanan was an engineer in the same industry means that his and Sensei's family could enjoy wealthy household, I thought. Sensei told me also that he passed away in 2011, which means he lived longer than the average men's life. All of these should have born Sensei's happiness of today in such a gorgeous retirement house. Sensei said that I have tried hard to save money too. Of course Sensei's way of living was another reason for her happy life today. She entered the University of British Columbia(UBC) in her age of 24. She said that she earned the necessary school expenses herself by working as a primary school teacher. She said that her father was a road construction engineer and not very wealthy. So, from her youth, she have had a strict and sound sense of money. Such an attitude too should have contributed to her happy life today. I was made to know the real attitude of life of our Sensei which was hidden under her beauty and tenderness.
We had been very anxious about the happiness of Sensei after her divorce, but Mr. Buchanan appeared to be so nice a husband to Sensei from Sensei's words and the picture of the two (Sensei is holding a cat). Purpose of my trip to Canada was satisfied by the confirmation of Sensei's happiness with the second husband and with Joyce-san.
By the way, this retirement house is equipped with swimming pool and fitness equipment. Sensei is using them for keeping her health. Although Sensei has some weakness with her legs and relying on stick and walker, she is walking all right within the house. Sensei said that she enjoyed skiing and golf in her younger days. We were shown the pictures of her skiing and playing golf. Sensei's present health should be the result of her athletic practice as such. Sensei kindly invited us to dinner twice during our stay in Victoria, and we saw Sensei ate quite well. Eating well must also be the source of her long and healthy life.
I told that in Japan, before we part from the previous life and enter into such a set up, we have to go through the process of "cutting various relations with people and things, throwing things that we cherished for a long time away and departing from people and places." It is very hard to go through such a process because our memories and love are deeply involved in people and things we lived with for a long time. How Sensei could overcome such a difficulty? Sensei said she felt very lonely and she missed many people and things, but there was no other way, and she dared to do so. But now she said she could be very happy just because of the decision she had made. I was moved so much by her right and brave resolution at the important points of choice in her life.
<Why did Sensei come to Japan?>

One of the biggest questions we wanted to ask Sensei was why Sensei decided to come to Hinomoto Women's High School as a missionary. Sensei is a graduate of the University of British Columbia(UBC), and Sensei's major was the Language Education. So, we might be able to say that Sensei was moved toward the English education to non-English speaking people while she was studying the language education. But Sensei said that she had a keen concern for the missionary work.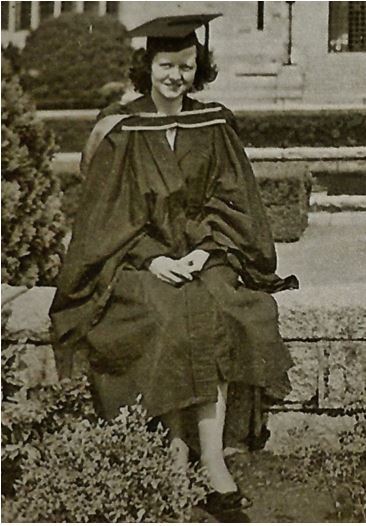 <Sensei in UBC>

Sensei was a member of the First Baptist Church of Vancouver, and perhaps Sensei's strong faith cultivated there might have moved Sensei toward the work of missionary.

Next, we have to be clarified why Sensei chose Japan as her destination? I want to have the answer to this question some other time, but the following is my guess. After the second world war, in American and European Christian world, many missionaries and funds for the promotion of Christianity in China had been prepared. But, China has turned into Communist nation, and the Christian mission became nearly impossible. So the missionaries and funds originally prepared for China were shifted to Japan. So, mission to Japan might have gain popularity within the Christian world. This follow wind should be blowing in Canada. This is merely my guess, and someday I want to confirm from Sensei.



<UBC Continuing Study Course>
Thirdly we were much interested to know why Sensei chose Hinomoto as her place of working. As to this point, Sensei taught the background of her selection by e-mail. Sensei expressed her intention to go to Japan as a missionary in the above mentioned church. As there was no organization to coordinating missionary's work in Canada, the church referred this matter to the Northern Baptist Association in New York, and they found that there would be a vacancy(*) in Hinomoto Women's High School and introduced them to Sensei. This is how Sensei decided to come to Hinomoto. Then Sensei studied theology in Berkeley, California and Japanese in Yale in preparation for the missionary work in Japan, and Sensei left for Japan by sea. If it had been today, Sensei would have left by air.
* Miss Alice Bixby and Miss Milley Chapman were to leave Hinomoto in 1952.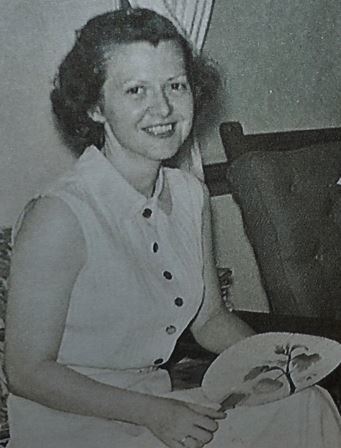 <Sensei in Hinomoto>
<Miss Joyce Willson>
Sensei's life with Joyce-san in her infancy should not have been so easy. But Sensei looked after Joyce-san so well by herself, and Joyce-san grew into a beautiful and attractive lady as we see today. Joyce-san was unfortunately involved in a traffic accident when she was thirty one years old, and she lost consciousness for one month or so, but she recovered miraculously, though unfortunately the aftereffects of her injury were still seen in her legs.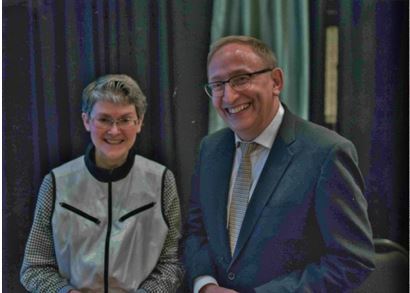 <Joyce-san with the head of Royal British Columbia Museum> 
We saw her always holding a stick. But she is very courageous and positive, and she is now working as a volunteer in the Royal British Columbia Museum, and recently she received an award from the head of the museum for her voluntary contribution in the Victoria City Volunteers Awarding Night. She lives quite near to Somerset House and visit there twice a week to see Sensei. Sensei said, "She is a great help to me and I am very grateful to have her." We would like to pray for her health and happy life in future. At the same time, it is our fervent wish that she will continue to look after Sensei.

<Sensei's residence in Himeji>

We all know that Sensei's residence in Himeji was a missionary's pavilion in Goken-yashiki. Sensei asked me in a few e-mails what happened with the residence. Her three and a half years life in Himeji should be very dear and lovable to Sensei, and many good old memories of life should be left in the residence.
So I searched it by hearing to many people who seemed to know it. But Sensei was living around 65 years ago, and so, not many people who knows Sensei or the missionary pavilion are alive, and if they are alive, their memories are not quite precise. But somehow the range of my search has become narrower and narrower. One day we, my wife and I, plunged into a Buddhist temple named "Enkohji", and we asked the wife of the chief priest if she knew the missionary pavilion near that temple. Fortunately the wife was born there and the chief priest was an adopted husband, she said she knew it very well. "Just 2 blocks north from here and along the same street, there is a very big house owned by Mr.I who had bought over quite wide range of the lot which was owned by Hinomoto School. The immediate north to Mr. I's house, there is a garden also owned by him, and that is precisely where the missionary's pavilion was located." This time I know what she said is right. And the next day, Miss. Kaho Itoh, a Hinomoto graduate, and the elder sister of Miss Yuri Itoh who happened to be the person who contacted with Mrs. Valerie Lee by FaceBook gave me an e-mail showing the location of the missionary pavilion. These two locations precisely matched with each other. In the latter information, Miss Yuri Itoh's friend kindly sent me a rough sketch of the pavilion with the room layout, which clearly shows the entrance to the basement, where Sensei had a prayer meeting for us once or twice. This is how my detective work has been successfully completed.


Hinomoto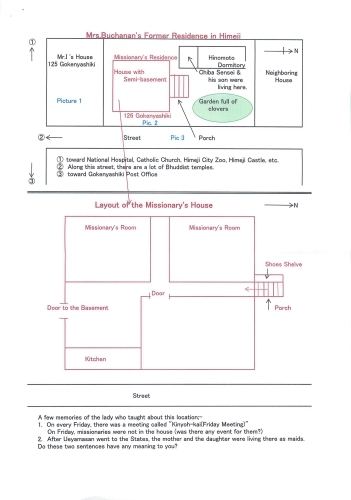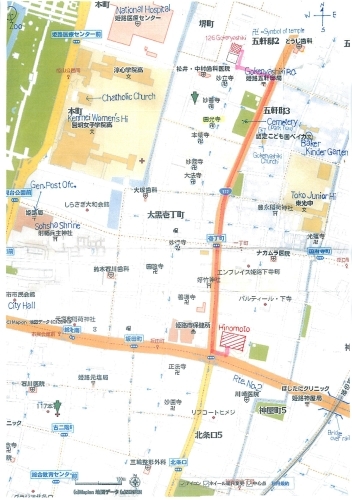 I made simple map around the pavilion and its room layout and brought to show to Sensei, and Sensei immediately confirmed the location was correct.
The information given by a friend of Miss. Itoh was including some other information as follows. In the premises of the pavilion, there was a dormitory of teachers of Hinomoto, and a lady English teacher named Mrs. Shin Chiba was living with her son, Makoto Chiba. Sensei remembered both of them. Another information was that a maid named Miss. Ueyama was living in the pavilion. Sensei said that her given name is Taeko-san. Sensei knew that Taeko-san got married and lived in the U.S. and passed away there. In 65 years, almost all the buildings were reconstructed and it is regrettable that we could not show her good old pavilion. But we have to be satisfied with the finding of the location. By the way, Sensei commuted to and from the school on foot, she said.
In an e-mail sent from Sensei, Sensei said that she heard the lion's roar in the midnight. The relation between such a beautiful Sensei and the lion's roar in the midnight made me smile because it was so unimaginable combination. Though Sensei's residence was rather near to Himeji City Zoo, it was the first time that I heard people said he or she heard a lion's roar. These days, the building has become airtight, and lion's roar cannot be heard. And also, so many cars pass emitting noises, and animals roar cannot be identified. Sensei's story of lion's roar just tells us also Sensei lived quite long time ago.  
<Talking on Christianity>

Sensei asked me about the latest situation of Christianity in Japan. I explained that the Christian population in Japan have dropped to about 0.8% of the entire population. I also explained various reasons for that decrease. People is now absorbed in computer and mobile telephone games and television programs. They just passively receive these things without thinking or criticizing actively themselves. And also, they don't have time to read, think, exchange conversation with others because they are too busy in enjoying games and TV programs. In today's logical and scientific way of thinking, it has become very difficult for them (including us) to accept Christian dogma such as resurrection of Jesus, Holy Spirit, atonement or redemption of our original sin, etc. Churches (pastors or preaches) do not try to interpret such dogmas for people's understanding in today's way of thinking as above. They look down Non-Christian people and take an attitude as if they are standing in higher dimension than general people. Such a word as "preaching" is still used, but in my opinion "let's seek the truth together" is the proper words to use toward the peoples of other religion or philosophy or even peoples who don't believe in any religion. Sensei also said that we had better share the way of thinking of general people. I was very glad Sensei is having such a well-balanced way of thinking. Sensei's way of thinking can be said to be very near to the Ecumenism (Sensei's way of thinking is the Ecumenism over the religions rather than the ecumenism over the denominations within the Christianity).
We are to leave Sensei's residence by 2:30 according to our itinerary, and originally Sensei had recommended us to visit "Mile Zero" (*) and to talk while walking there. But we (in fact I) were too much absorbed in such a talking, and we stayed there and did not take a walk to the Mile Zero after all.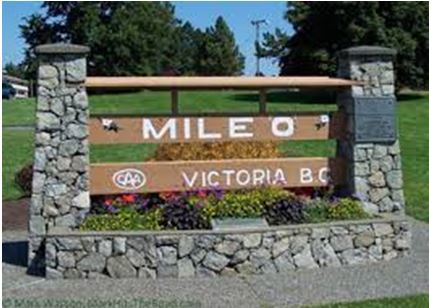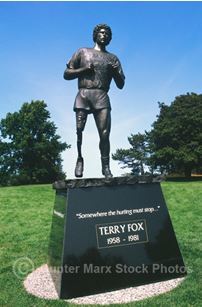 (*)"Mile Zero"
The Mile 0 marker is the start of the over 8,000 km Trans-Canada Highway that is the entire length of Canada. Mile 0 is also home to a statue of Terry Fox. Fox lost his right leg to cancer when he was 18 years old. He started a cross-Canada run to raise money for cancer research, began in Newfoundland on the East coast of Canada, and was to end at the Mile 0 marker in Victoria. Unfortunately, Fox's journey ended tragically near the halfway mark when he fell ill and passed away from cancer. Since then, hundreds of millions of dollars has been raised in his name for cancer research.




After then I told her about a strange phenomenon in Japan as to the Christianity. That is while the Sunday service was held the American way, the popular theology has been German theology such as Karl Barth, the greatest theologian in the twentieth century, Paul Tillich who sought a refugee to the U.S. from the persecution of Nazis. Sensei mentioned that we had also Dietrich Bonhöffer, another famous theologian who participated in the assassination plan of Hitler and was arrested and executed. "And we had another famous theologian in Japan who had a dispute with Karl Barth severely (*).
What was his name?" "Ah, we cannot remember." ・・・"Isn't it Emil Brunner? "Yes that's Brunner, did you hear his lecture? Sensei knew that he came to Japan and became a professor of ICU (1953-1955) and stayed for roughly same period as Sensei. Sensei's memory is very sharp.

(*) Karl Barth criticized Brunner's theology as Theologia Naturalis saying "As we admit that the revelation by the Bible as the only source of understanding of God, all the trial of admitting the revelation in the nature, conscience or history should be rejected."
And our talk went further, and we talked about Billy Graham's way of preaching. He gathered tens of thousands of people to very big athletic ground such as Korakuen in Tokyo and at the end of the preaching called to people to come forward if they have decided to accept to become Christian. Then many thousands of people came forward. Sensei and I wondered such a way of making people mentally excited and pushing them to the baptism is the right way of preaching, because being baptized is the determination of our religious life and the matter which cannot be determined so simply. In the midst of our talking as such the time of parting at last came.  
<See you again after 3 years!>
"Goodbye" was not a proper word to exchange at the parting, and I could not say so. Instead, I said "See you again in three years when you celebrate your 100th birthday. I'll be here to join your birthday party."
<Other things to report>
★Mrs. Valerie Lee
Miss. Yuri Itoh who is a sister of a Hinomoto Graduate Miss.Kaho Itoh found Mrs. Valerie Lee by the Face Book, who is a niece to Sensei. Mrs. Lee and her mother who is the younger sister of Sensei are now living in Minesota, U.S.A. The early e-mail from Mrs. Lee told us that family of Mrs.Lee and Sensei are meeting from time to time. The existence of such a family should be very encouraging to Sensei. We wish warm relation between Sensei and such a good family will last long.
How Mrs. Lee and Yuri-san found each other is still left unknown to Sensei and me. The development of the SNS is far beyond the understanding of the people belonging to the old generation as ours. But we have to thank these two ladies for their finding Sensei, which is indeed a miracle.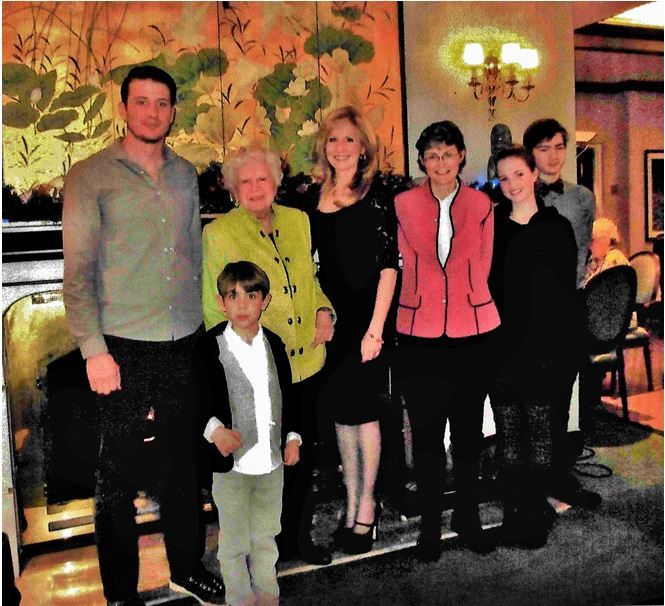 <3rd from the left: Sensei, Mrs. Valerie Lee, Miss Joyce Wilson surrounded
by their families>
★5 feet 7 inches
When I said to Sensei、"When I was your student in Hinomoto Bible Class, I was very short and could not see Sensei's face straight. But now as I reached the average height of Japanese men, I could see your face straight." Sensei said, "That's maybe because I became shorter. When I was in Japan, my height was 5 feet 7 inches."
★A happening in the Butchart Garden
In Victoria, they have a very beautiful flower garden, called Butchart Garden. When I visited there in 1981 being invited by a Japanese manufacturer of wine and liquor, I was so deeply impressed by the beauty of that flower garden that I decided to take my wife there. And this time my decision has come true. What I wanted to show her most was the Japanese Garden.(*)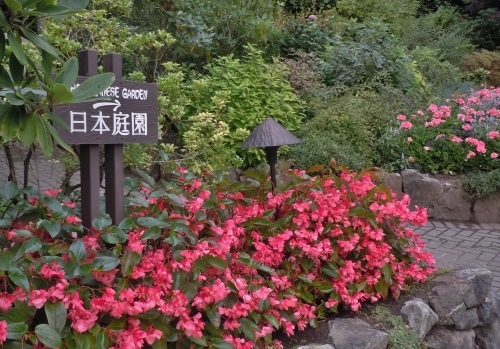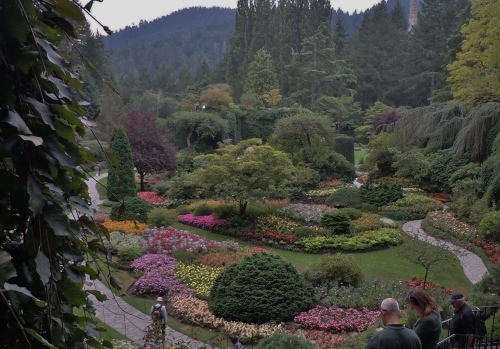 (*)Butchart Garden:
Butchart Garden was built by Robert Pim Butchart, a pioneer in the North American cement industry. He was attracted by rich limestone deposits. In 1904, he developed a quarry and built a cement plant on Vancouver Island. Jennie Butchart, his wife, became the company's chemist. As the limestone deposits were exhausted, Jennie made plans to create the flower gardens in the exhausted pit and had tons of top soil brought in by horse and cart from the farmland nearby and used it to line the floor of the abandoned quarry. Little by little, and the quarry was changed into the spectacular Sunken Garden. In 2004, The Gardens was designated a National Historic Site of Canada. Each year over a million plants in about 900 varieties give visitors wonderful bloom from March through October, and almost a million people visit annually to enjoy each season's scenes and events. The Japanese Garden was completed in 1906 by Isaburo Kishida, an expert Japanese garden designer.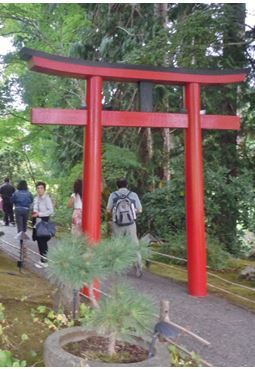 A red colored Torii gate is placed at the entrance to the serene Japanese Garden to where people are guided by streams, ponds and bridges. The atmosphere of Japanese garden was delicately decorated with the replicas of Japanese building, bamboo walls and typical Japanese woods and grasses. In the ponds there were stepping stones.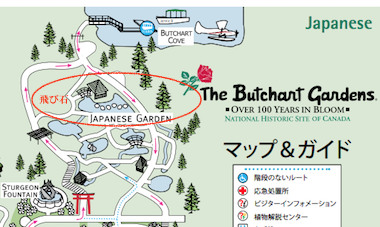 I was crossing the pond stepping easily without any trouble, but when I noticed that another 3 stones will take me to the opposite bank, suddenly I lost balance and fell into the pond. Luckily, the water was not deep, and I became wet up to my shin only. Quite a few people gathered around me shouting, "Are you all right?" I felt very ashamed, and said to these people, "Don't worry, I'm all right!" And I tried to leave that place as early as possible. I and my wife looked for some genes pants and socks in a souvenir shop, but could not find.
Then, we rushed to the parking lot to ride on the bus earlier than any
Other Japanese tour members without being noticed my wet trousers and socks.
After arriving Hotel, I asked a concierge whether we have any shoes shop nearby. According to her suggestion, we went to a department store and found a good one at the shoes counter. The staff asked my size, and I said 24. He went to check the inventory and retuned and said "We have no smaller shoes than 26." So we returned to the Hotel. Knowing the time to meet with Sensei was fast approaching, my wife pressed my trousers to dry. But the shoes are left very wet, and there was no way to dry it up. So, I took off my socks and wore my wet shoes. At the very important moment of reunion with Sensei, I felt very ashamed of my pants over my bare feet.
★Sensei's gift of CDs and DVDs
Sensei gave us 12 pieces of CDs and DVDs as her farewell gift. One of the DVDs is Verdi's Opera "La Traviata" featuring Renée Fleming as Soprano, Thomas Hampton as Baritone and Orchestra of the Royal Opera House conducted by Antonio Pappano. Another was "The Original Three Tenors Concert featuring José Carreras, Plácido
Domingo, Luciano Pavarotti and Zubin Mehta, the conductor.
CDs are "Opera Mania" consisted of 5 pieces of CDs containing very popular Opera Arias performed by first class singers, conductors and orchestras, Mozart's "Eine Kleine Nachtmusik", Symphony Nos.35, 40 and 41, "Serenata Notturna," "Divertiment," Beethoven's Piano Sonata "Moonlight," "Appassionata," and "Waldstein" played by Vladimir Ashkenazy, Mozart's Piano Concerto No.24 by Glenn Gould and No.21 by Rosina Lhevinne and Brahms' 4 symphonies played by Karajan and Berliner Philharmoniker. Packages of all the DVDs and CDs as mentioned above are rather old. On some explanation papers contained in the cases, Sensei drew lines by markers and wrote down some words. It shows that Sensei liked them so much and repeatedly listened to them. I became afraid that I have
taken off Sensei's important sources of consolation and pleasure. I think I must send back these precious things to her after I have listened all.


★At the end of our reunion
Before the reunion with Sensei, I had many things to ask Sensei. But as it was not good to take out my note and pick up the points to ask right in front of Sensei. And also, I missed hearing about many points. I regret also that I could not convey enough the message and affection of all of you to Sensei which has been accumulated in your mind for a long time toward this end. I would like to beg your pardon for my failure to come up to your expectation. I wish that I could tell you from the correspondence with Sensei in future.
I told Sensei that our visit this time is not the end but the beginning of our relationship. I would like to ask you to understand this. I asked to Sensei to give me a permission for my reporting on the dialogue with Sensei in future, because there are so many Hinomoto graduates, Bible Class graduates and those who have various relationship with Sensei while Sensei was in Himeji and wish to know how Sensei is doing.
★Again from the Vancouver Airport
Before we went on board the Air Canada flight to Japan departing Vancouver at 11:55 a.m. September 8, I called Sensei by telephone just as I had done in June 1981. I told Sensei that it was so nice that we could meet again and that I want to meet with you in 3 years again, and I asked Sensei to convey our warmest regards to Joyce-san. I asked Sensei to take good care of herself too.
Sensei asked me to send her best regards to all of you.
5 or 6 days after, Sensei sent me an e-mail telling, "Please let me know when the camera arrives, and if it survived the trip. Forgetting it just makes you human like the rest of us." In fact I had left my camera in her room when we left Sensei's residence. This was another happening showing my "humanity."
★Some Pictures from Sensei's Album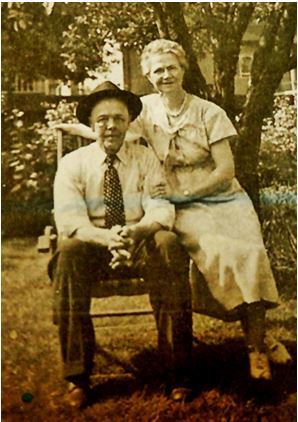 <Sensei's Parents>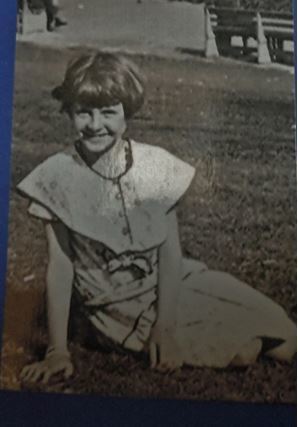 <Sensei in her girlhood>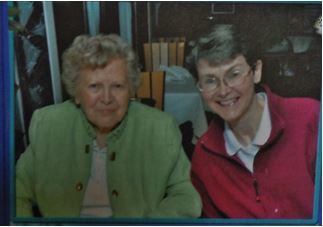 <Sensei & Joyce-san>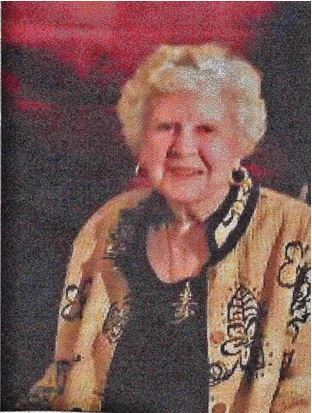 <Sensei a few years ago>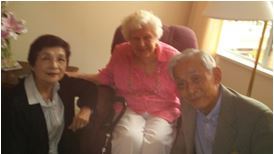 <Sensei with Yasuko & Ichiro>


commented by Kaho:
Hinomoto graduate I.A.-san had a good memory about the missionary's pavilion and gave the rough sketch of the pavilion to me, and I sent it to Mt.yamakawa,and we can see a nice layout made by him.



***********************