2017年 06月 23日
| | |
| --- | --- |
| web版27-2 My Father's imprisonment by Issac Namioka | |
タグ:日ノ本学園・戦争とわたし

 ←クリックして記事一覧をご覧ください。

Tag : Hinomoto Girls School・War and I

 ←

Please click here for list of articles.

The Japanese version of " 父の入獄 by 波岡維作" ←Please click here.






In 1944, Japan had been at war against the Allied Forces, and my Father had been the principal of Hinomoto Jo Gakko (Hinomoto Girls' School) since 1937.
In the early morning of April 2, a group of 5 or 6 police men appeared at the entrance of our home and a few of them arrested my father and took him to the Police Station. The rest of them rudely entered the house without tkaking off their shoes,and started to serch for materials that can be used for prosecuting Father. After a while they left our house with Father's diaries since his Morioka Middle School days and a few books including a Japanese translation of Thoreau's "Walden".


While Father was in the prison of the Himeji Police Station, he was harshly interrogated by a detective. Later Father was reluctant to talk about the Himeji prison.
My job was to carry the meals Mother prepared to the police station. Whenever I asked when Father could come home, the reply was always "in a few days". This was a big lie as we found later.

After about 20 days in the Himeji prison, Father was transferred to the Kobe prison for his trial. Mother asked our old lawyer friend Okura to act as Father's defender. Mr. Okura readily agreed.
After the war Mr. Okura told us that it was not such a simple matter to defend Father, because he was a civil case lawyer, and my father's case was a criminal one.
So, after accepting Father's case, Mr. Okura prepared himself to be a criminal lawyer. Later Mr. Okura told us with a smile that during the war civil cases were scarce, while there were plenty of criminal cases.

At Father's trial, the prosecutor demanded two years of imprisonment. The case was largely based on what Father had said at the Hinomoto teachers'office. One of the teachers was a spy for the police. Thanks to Mr. Okura, the verdict was for one year of imprisonment.

At the Kobe prison, Father was treated with respect, and occasionally he was asked to interpret for foreign prisoners. After staying about 80 days in Kobe prison, Father was transferred to Okayama to serve his sentence.

Okayama is a city about 89 km west of Himeji, and Mother was allowed to visit Father only once a month. The only way she could go to Okayama was by train. However, in 1944 it was almost impossible for an ordinary citizen to buy a train ticket unless the trip was related to the military, and even with a ticket coaches were very crowded. But Providence was with Mother.

On September 11, 1928, our family of four [Father, Mother, Grandma (Mother's French mother) and myself at 4 ½ months] arrived at the Himeji station. Father had been newly appointed as the pastor of Himeji Baptist Church. The church and the Hinomoto Jo Gakko were closely connected. The school had been established in 1893 by the Women's American Foreign Mission Society, and most of the Christian students of the school attended the Baptist Church, which was established in 1894. As the pastor of the church, Father was also a trustee of the Hinomoto school.

Among the members of the Baptist Church, there was a blind man, Mr. Yoshimasu, who had lost his sight during the Russo-Japanese War (1904-1905). When he was feeling very depressed in an army hospital, a missionary visited him and talked to him about Christianity. This led him to become an ardent Christian. Each Sunday, he would sit on the same bench in the church where his big Braille hymnal was located and sang with a loud voice. He was the president of the organization of blind people in Himeji, and he was also a recipient of a Braille watch from the Empress.
In 1944, hearing about Father's incarceration at Okayama, Mr. Yoshimasu offered to accompany Mother to the Okayama prison. Since Mr. Yoshimasu was an old blind war veteran of the Russo-Japanese war, he and Mother were treated with the utmost curtesy at the Himeji and Okayama stations.

After Father's arrest, Hinomoto Jo Gakko changed completely. The Prefectural Government brought Mr. Ohta Junji, a retired teacher at the Peers'School, to be the new principle of Hinomoto. Mr. Ohta was not a Christian, and he was practically an unknown person in Himeji.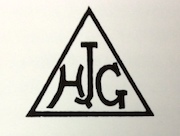 original idea mede by a student, Tsuyuko Mizuno (31 class)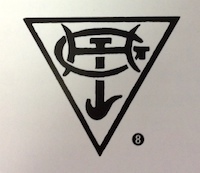 School badge of Hinomoto made by art teacher in 1926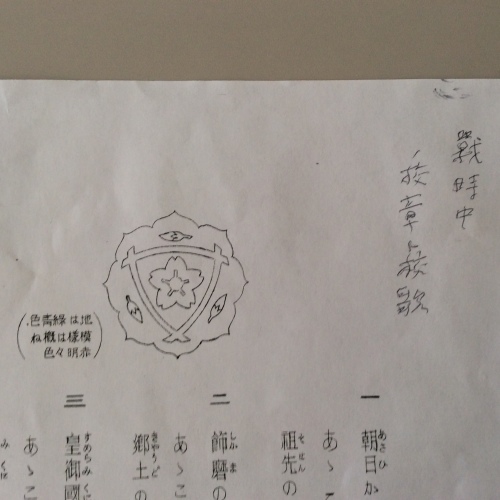 school badge only used in the war time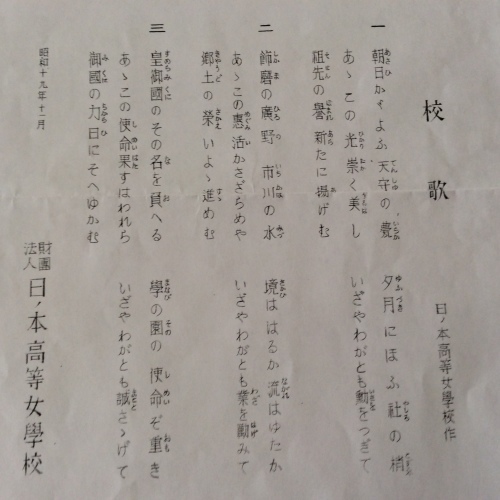 school song only used in the war time
The old school badge that consisted of the capital letters H, J, G of Hinomoto Jo Gakko artistically arranged in a triangular frame was changed to a nondescript one featuring a cherry blossom. [H, J , G also symbolize the Trinity: Holy Spirit, Jesus Christ and God.] The old school song was replaced by a secular one.
A Hinomoto teacher, Terada, declared in front of the students that he was no longer a Christian and ordered the students to hand over their Bibles and hymnals. He proceeded to burn them at the center of the school yard while the students stood watching in tears.

There was a Cross on the front wall of the Chapel, but it was carved out and discarded. One student picked it up and took it home. This student was severely scolded later.
According to the original regulation of the school, each member of the trustee must be a Christian, but under the Ohta regime, only one member of the trustees was Christian.

In the Okayama prison, Father's work was to sew buttons on military uniforms. After he came home, he took care of all the torn off buttons in the house, but not for very long. We all learned the Okayama method of affixing buttons. It was a little more complicated than we thought, however.

Our family, now reduced to three members, greeted the New Year 1945 with a wish for Father's return in good health and spirit. Our family had been observing a little service each evening as far back as I could remember, and during Father's absence his health was always in our prayer.

On April 19, while having the evening service as usual, we heard the front door opening with "Tadaima" (I'm back). We rushed to the entrance porch thinking it couldn't be Father.
But it was!
We could only think that our prayer was answered. He seemed to have shrunk a bit, but his face and voice were the same as before. He came home about 40 days before his prison term ended.

About four months later, the war ended. During these four months, the city of Himeji was almost completely destroyed by incendiary bombs. However, Hinomoto School and our home (and the castle, by the way) were saved. I was no longer in Himeji when the city was bombed, but Father told me that he and my brother prevented the spreading fire from reaching our house with many buckets of water.

In September, American soldiers came to occupy Himeji. The situation became very uncomfortable for Principle Ohta, and he resigned in March of 1946. Father became the Principal again and remained so until his death in 1970. For the last few months of his life, however, he was so sick that Mr. Iguchi, one of the teachers, was the Acting Principle of Hinomoto.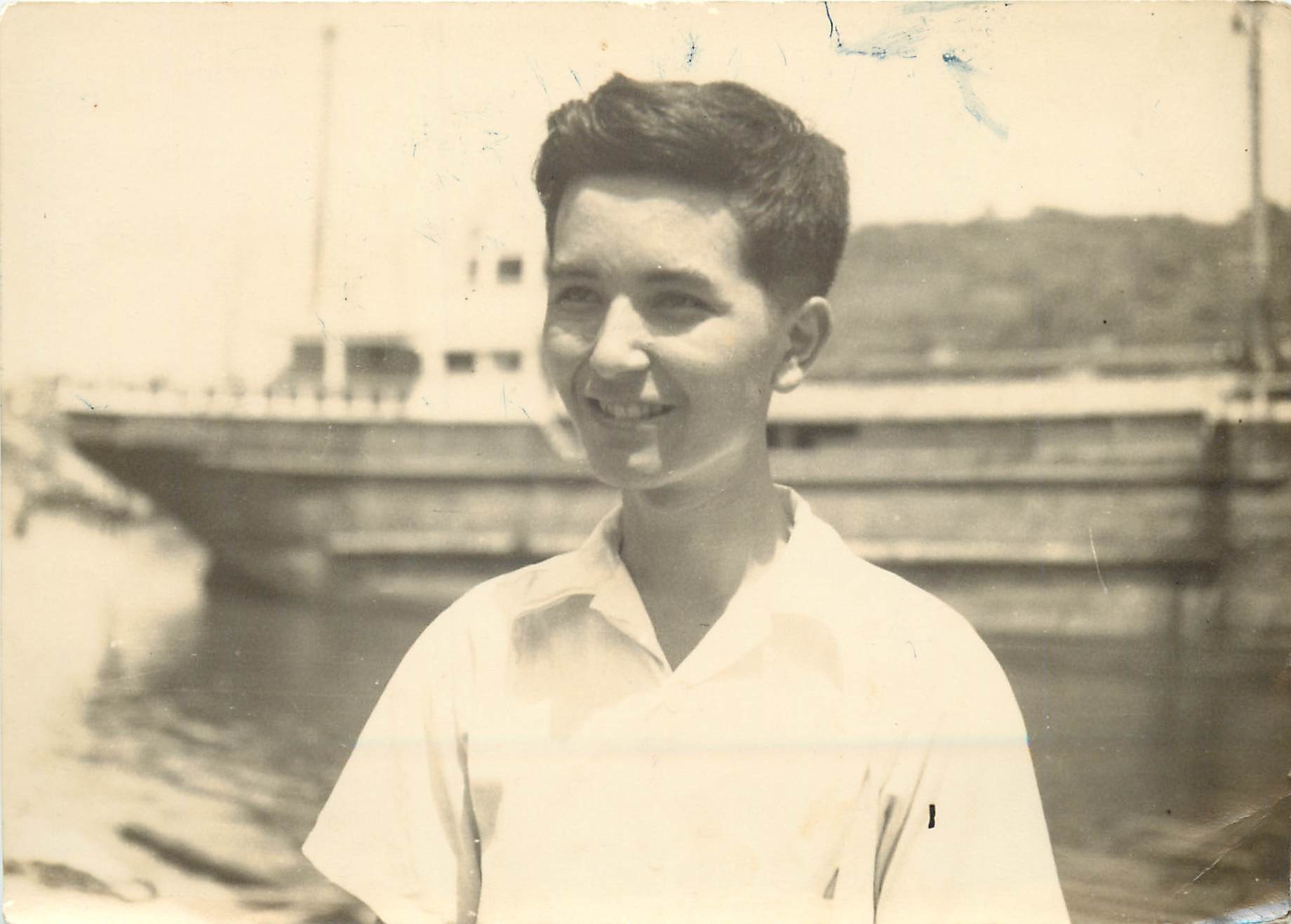 Young Isac Namioka before he left Japan to America in 1948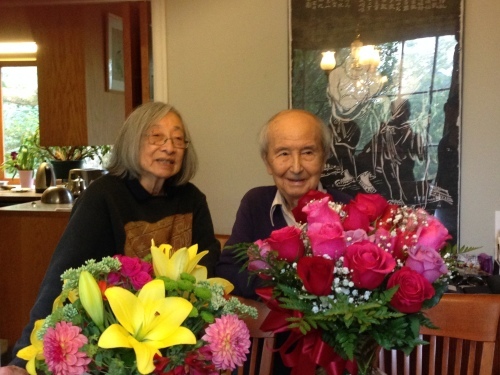 Mr.Isaac Namioka and his wife Lensey,
on their 60th wedding aniversary, September 9th, 2017.

*************************
香保のコメント2017年9月10日
維作先生から日本語の投稿をいただいたとき、私は先生に「英語でも書いて欲しい」とお願いしました。そうすれば日本語を知らない維作先生の子供さんたちがお祖父さん(波岡三郎先生)に何が起こったかを知ることができるからです。

私は4回めの台湾訪問から昨日帰って来ました。
今回の旅で訪ねた国立228祈念館は、日本統治下では教育会館と呼ばれており母と伯父(母の兄)が、ピアノの先生が日本に帰国なさるときのお別れ会で2台のピアノで演奏をしたところです。
今は228事件や台湾独立運動の資料が展示してあります。

突然官憲に逮捕されて連れて行かれる多くの228事件の犠牲者のビデオ映像(もちろん後日作られたもの)を見ている私の脳裏では、映像と波岡三郎先生とご家族の姿が重なりました。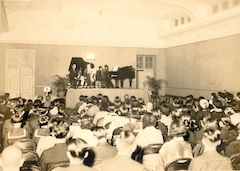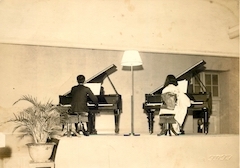 *************************: